Released
today
:
What We Saw
by Aaron Hartzler...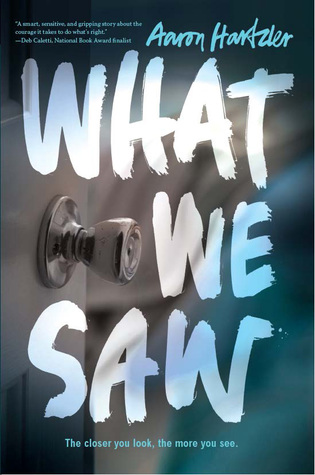 Kate Weston can piece together most of the bash at John Doone's house: shots with Stacey Stallard, Ben Cody taking her keys and getting her home early—the feeling that maybe he's becoming more than just the guy she's known since they were kids.
But when a picture of Stacey passed out over Deacon Mills's shoulder appears online the next morning, Kate suspects she doesn't have all the details. When Stacey levels charges against four of Kate's classmates, the whole town erupts into controversy. Facts that can't be ignored begin to surface, and every answer Kate finds leads back to the same question: Where was Ben when a terrible crime was committed?
This story—inspired by real events—from debut novelist Aaron Hartzler takes an unflinching look at silence as a form of complicity. It's a book about the high stakes of speaking up, and the razor thin line between guilt and innocence that so often gets blurred, one hundred and forty characters at a time.
I really didn't expect to like this one as much as I did because the subject matter is just so uncomfortable but I think that a really good book forces you out of your comfort zone at times, forces you to think about unspeakable acts and how you would feel and react if placed in a similar situation. What We Saw will definitely make you stop and think about right and wrong, falling in line or standing up for what you believe, and the sad prejudices that remain about women in the country and whether or not their actions, their clothes, their behavior opens them up for sexual assault. Don't read this one if you're not prepared to think about serious social implications.
What We Saw follows along Kate, a soccer star at her high school who left a party because she was wasted. Luckily, her long-time childhood friend and crush was there and took her home before she could do anything that she regretted. Unfortunately for a fellow classmate, this was not the case for everyone. Stacey... the girl who claims that several star basketball players sexually assaulted and raped her at the party when she was too drunk to give her consent sets off a war in their small town, a town ruled by the fans of their state championship-bound basketball team. People are told to keep quiet and their small town becomes a media circus over night. Kate cannot shake the feeling that the truth needs to come out... but will knowing what happened give her peace or drive her away from everyone, and everything, she's ever known? A gripping and compelling tale based on real events that will stay with you long after you turn the final page.
This book is definitely one that should be placed on your TBR list immediately. I was appalled by the actions of some of the people in this book and the sad thing is, you hear about these kinds of things on the news all the time. It really makes you stop and think... what is rape? What is true consent? And is a girl or woman or anyone for that matter ever "asking for it" based on their appearance or behavior? How can "no means no" be the standard when some people are not in the mental state to form words? Wonderful topic that truly deserves to be addressed. I applaud Aaron Hartzler for a look into this, a look that young adults are likely to take because this book is engaging and necessary. My only, and I mean only, dislike about this book is Kate's inability to forgive what she views as a major betrayal. I personally see things a little less black and white and would have liked to see her and this other individual be able to move past the "betrayal" and form a stronger relationship afterwards. But that's just me... all in all, this book deserves space on your TBR shelf. You won't be disappointed!