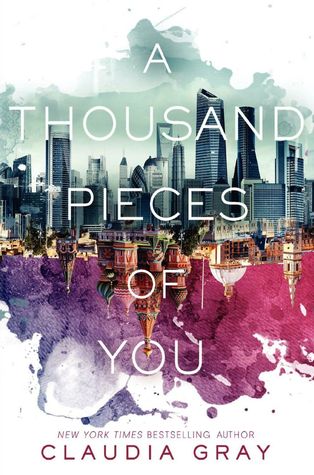 Synopsis:
Marguerite Caine's physicist parents are known for their radical scientific achievements. Their most astonishing invention: the Firebird, which allows users to jump into parallel universes, some vastly altered from our own. But when Marguerite's father is murdered, the killer—her parent's handsome and enigmatic assistant Paul—escapes into another dimension before the law can touch him.
Marguerite can't let the man who destroyed her family go free, and she races after Paul through different universes, where their lives entangle in increasingly familiar ways. With each encounter she begins to question Paul's guilt—and her own heart. Soon she discovers the truth behind her father's death is more sinister than she ever could have imagined.
A Thousand Pieces of You explores a reality where we witness the countless other lives we might lead in an amazingly intricate multiverse, and ask whether, amid infinite possibilities, one love can endure.
I'm a huge fan of Claudia Gray and once again, she did not disappoint.
A Thousand Pieces of You
is a wonderfully written book that is unique, fresh, exciting, intriguing, and stacked with emotional feels. The only thing making me sad right now is how long I'm going to have to wait for the second book!!
A Thousand Pieces of You
introduces us to Marguerite, a teenager with truly astonishing parents, parents who have invented a device that allows people to travel to parallel universes. When a graduate student betrays the family, with shocking and devastating results, Marguerite sets out on a wild chase through multiple worlds to catch the one responsible for hurting her family. Along the way, she learns things that make her question everything she thought she knew... she also begins to question the existence of fate as her soul seems to find the same person to love in every world she encounters. Will Marguerite trust her heart or the things she thinks she knows? Will she be able to get back to her world in time to save the ones she loves? All will be revealed in this twisty, fast-paced thriller by the amazing Claudia Gray.
This book is SO good! I loved the characters and I LOVED seeing the different universes and how different they were from our own. Claudia Gray's imagination is off the chart, y'all! This book is so unique and entertaining, I really can't say enough good things about it. I'm really pleased with how things ended up with the characters and I'll admit it, I had tears! Claudia Gray knows how to invoke the feels! I CANNOT wait to get my hands on the next book in this series. Totally going to be a winner, of that I have no doubt.