Released
today
:
Truest
by Jackie Lea Sommers...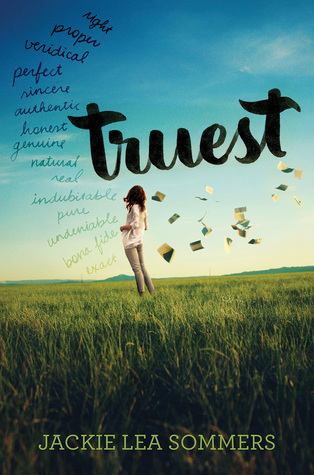 Synopsis:
Silas Hart has seriously shaken up Westlin Beck's small-town life. Brand new to town, Silas is different than the guys in Green Lake. He's curious, poetic, philosophical, maddening-- and really, really cute. But Silas has a sister-- and she has a secret. And West has a boyfriend. And life in Green Lake is about to change forever.
Truest is one of those books that will stay with you long after you turn the final page. I read it in a day because I couldn't drag myself away from the story. It's romantic, sad, moving, hopeful, and haunting all in one. What a wonderful debut from a very promising new author!
Truest introduces us to Westlin Beck, local pastor's daughter and small-town girl, and Silas Hart, a mature, introspective, and philosophical boy so different from other teenage boys that West knows. They begin a partnership one summer that turns into a friendship and possibly so much more... West begins to experience things she had only dreamed of before. The gray cloud on West and Silas's horizon is Silas's twin sister, Laurel. Laurel has a secret... one that threatens to tear not only herself, but her family apart. Right when things seem to be right as rain, a shocking event will send ripples through their small community. Will West and Silas's connection be able to survive the worst, or are some things just too much to overcome? All is revealed in this stunning and highly addictive debut from Jackie Lea Sommers.
*sighhhhhh* I really, really enjoyed this book. One, it was nice to read about teenagers with individual, intelligent, and unique thoughts going on upstairs. I work in a high school and sometimes got to say, some maturity in teenagers is a welcome change! Since I also have a background in psychology, I was fascinated with Laurel and her "secret". I don't want to spoiler anyone, but it's definitely an interesting thing she's got going on.
All in all, this book is a SOLID read that will keep you hooked from beginning to end. Even though I finished it several days ago, it's still with me and THAT is the mark of a truly great book.