Released
yesterday
:
The Unquiet
by Mikaela Everett...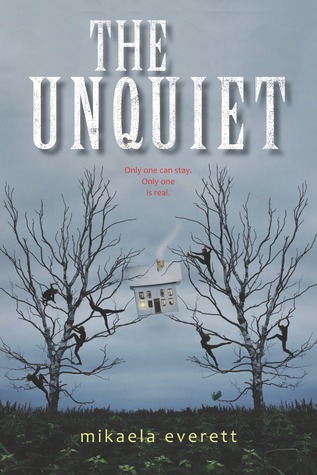 Synopsis:
For most of her life, Lirael has been training to kill—and replace—a duplicate version of herself on a parallel Earth. She is the perfect sleeper-soldier. But she's beginning to suspect she is not a good person.
The two Earths are identical in almost every way. Two copies of every city, every building, even every person. But the people from the second Earth know something their duplicates do not—two versions of the same thing cannot exist. They—and their whole planet—are slowly disappearing. Lira has been trained mercilessly since childhood to learn everything she can about her duplicate, to be a ruthless sleeper-assassin who kills that other Lirael and steps seamlessly into her life.
Wow, The Unquiet is a disturbing and interesting ride, that's for sure! I've never read anything similar to this and was really blown away by how CREEPY it all is. Can you imagine never knowing for sure if the people around you are who they claim to be? Any minute, a loved one can be stripped away from you and replaced by an alternate. CREEPY!!!! I really enjoyed this debut novel by Mikaela Everett. Girl knows how to spin a thought-provoking and chilling tale!
THE UNQUIET introduces us to Lirael, a "cottage girl" and sleeper training to take over the life and identity of her alternate on the other Earth. Lirael has been trained in a variety of cold and cruel methods that leave her feeling empty inside. When the time comes to infiltrate her new life, Lirael finds that it's not as easy as she thought it would be to not only fool everyone else, but to fool herself as well. Because shockingly, Lirael is beginning to feel things she never thought possible...
Shocking events, friendships, betrayals and more await readers as they delve into the creepy world that Mikaela Everett created. A heartbreaking twist will break the hearts of those reading this tale and this book will stay with readers long after they've read the final page. A wonderful and addicting debut from a promising new talent.
I highly recommend this book to others. You'll end up feeling weirded out in the best way possible and Lira is the type of character anyone can get on board with. Scoop this one up as soon as you can. Enjoy!