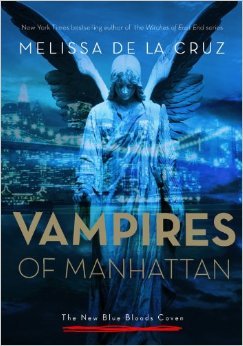 Synopsis:
The Vampires of Manhattan is "hipster horror"--the memorable characters from her Blue Bloods series are older and cooler than before, trying to build "Millennial" lives in the bustle of Manhattan while battling forces of evil and, of course, each other.
Hero of this sexy, paranormal action tale is Oliver Hazard-Perry, former human conduit, and Manhattan's only human-turned-vampire, now the head of the Blue Bloods Coven. When his all-too-human lover is found murdered on the eve of the coven's annual Four Hundred Ball--a celebration meant to usher in a new era in vampire society, and to mark the re-unification of the Coven after decades of unrest and decay--Oliver is devastated.
Now, not only is he trying to create a new world order for the immortal elite, he's the prime suspect and is stalked by the newly installed head of the vampire secret police. Because according to the new rules, vampires who take human life can now be executed. Burned.
How can an immortal sentenced to die fight back? He has to find the killer--and the answers lie deep in vampire lore.
I'm not going to lie... when I first started reading Vampires of Manhattan, I wasn't blown away. I LOVED the original Blue Bloods series and stepping back into that world at first felt like putting on an old pair of jeans--while they fit, something just wasn't quite RIGHT. Like the fabric was too scratchy, or they had shrunk a little in the dryer, SOMETHING. But by the end of the book, I felt like I had slipped on a comfortable pair of worn-in sneakers.... I was home.
Vampires of Manhattan picks up the story ten years after the defeat of Lucifer and things have changed quite a bit. Good ol' Ollie is now Regent of the Blue Bloods Coven and is coordinating a new Four Hundred Ball with his human familiar and mate, Finn, who just HAPPENS to be Schuyler Van Alen's sister. In addition, Mimi and Kingsley are back in NYC, creepy murders are taking place in the city, and a mysterious new party drug is making the rounds with some influential people. Never a dull moment for our favorite Blue Bloods!
Twists and turns will leave readers guessing as to who the good guys, and the bad guys, really are. And a shocking murder will have everything turned upside down--Oliver will end up having to call in some old friends, friends who are near and dear to readers everywhere. Will Oliver be able to clear his name in time, or will his reign as immortal being be entirely too short? Answers await in the new cycle of the Blue Blood Coven.
Is this book life changing? Absolutely not. I think readers who loved the original series will like this, once they get past the awkward feel of it in the beginning. While I understand and appreciate what de la Cruz was attempting to do, bringing her former YA series to the adult front, it comes off a little uncomfortable with some awkward sex scenes thrown in. When I got past that, and the snooty and over-the-top focus on wealth and material possessions, I was reminded about what I had loved about the original series. It's still there, you just have to give it some time to capture that old feeling.
I do have to say though that the above synopsis is SUPER spoilery in that the death they talk about doesn't occur until the very end of the book. The synopsis above basically summarizes the major plot points and gets you ready for the next book in the series. But the really great news? Some much loved characters are poised to return in the follow-up novel. Hallelujah! Bring on some Sky and Jack.
Vampires of Manhattan is set to release September 9, 2014 by Hyperion Books.