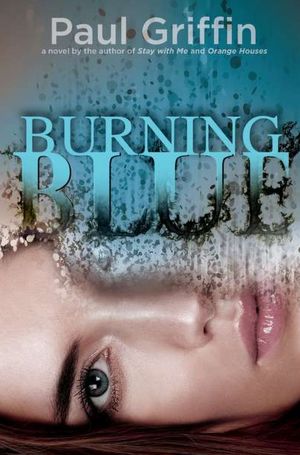 Synopsis:
How far would you go for love, beauty, and jealousy?
When Nicole Castro, the most beautiful girl in her wealthy New Jersey high school, is splashed with acid on the left side of her perfect face, the whole world takes notice. But quiet loner Jay Nazarro does more than that—he decides to find out who did it. Jay understands how it feels to be treated like a freak, and he also has a secret: He's a brilliant hacker. But the deeper he digs, the more danger he's in—and the more he falls for Nicole. Too bad everyone is turning into a suspect, including Nicole herself.
Award-winning author Paul Griffin has written a high-stakes, soulful mystery about the meaning—and dangers—of love and beauty.
Burning Blue
was good, not great. I definitely didn't fall in love with it and while it was enough to maintain my interest, and keep me flipping the pages, it didn't pack the punch I was hoping for.
Burning Blue
is the story of a horrible act--an act that leaves one teenage girl scarred forever. Nicole Castro finds herself the victim of a terrible crime when she is assaulted by someone who throws acid in her face. The left side of her face is ruined and she is forced to undergo numerous surgeries to try to help repair the damage. Unfortunately for Nicole, her encounter becomes serious news in her town as she was extremely beautiful, popular, well-known and liked by MOST of her peers...
Nicole becomes friends with Jay Nazarro, a fellow student who knows a little something about being the object of unwanted attention. See, Jay has seizures--seizures severe enough that he had one at a pep rally in front of the ENTIRE school, resulting in an embarrassing pants-wetting situation. Jay and Nicole find it easy to bond with one another and through his POV, readers get to see the development of a true relationship between them.
Jay has a secret though... the boy has some SERIOUS hacking skills. He uses these skills to try to track down Nicole's attacker. As he gets further and further into the mystery, disturbing details are found out, and as the danger rises, no one seems to be safe. Will Jay discover who attacked Nicole before the attacker strikes again? Is it possible Nicole did this to herself? And will Jay and Nicole's newfound friendship, and potential relationship, be able to survive shocking revelations? You've got to read it to find out!
Like I said above, I liked (not loved) this book. It was interesting and I found myself invested in it, but it didn't grip me the way that I thought it would. I really enjoyed Jay's character and thought it was super neat how he could hack into almost anywhere. I have zero computer skills so I always like reading about that kind of stuff.
I found the ending to be disturbing and disappointing just cause I hate the result! The result of Jay's investigating is just so sad. I know it's a book and I shouldn't get bent out of shape about it but just UGH! It saddens me to know that there ARE people like that out in the world, people who are so damaged that they don't think or care about the pain they inflict on others.
All that being said, I still think this is a solid book to recommend to others. I gave it 3 of 5 stars and while I don't think I would read it again, it's got some powerful topics in it that many readers will enjoy. If you think you could be one of them, be on the lookout when
Burning Blue
releases in October. Enjoy! *XOXO*
Expected publication date: October 25, 2012 by Penguin Group (USA) Incorporated