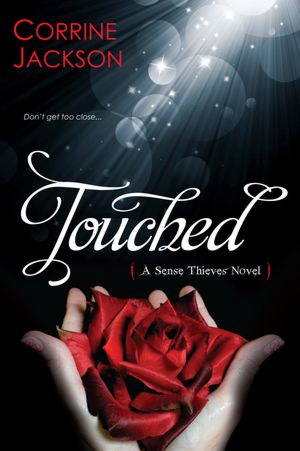 Synopsis:
Remy O'Malley heals people with touch—but every injury she cures becomes her own. Living in a household with an abusive stepfather, she has healed untold numbers of broken bones, burns,and bruises. And then one night her stepfather goes too far.
Being sent to live with her estranged father offers a clean start and she is eager to take it. Enter Asher Blackwell. Once a Protector of Healers, Asher sacrificed his senses to become immortal. Only by killing a Healer can a Protector recover their human senses. Falling in love is against the rules between these two enemies. Because Remy has the power to make Protectors human again, and when they find out, they'll becoming for her—if Asher doesn't kill her first.
OmiGOSH, I ADORE this book! I could NOT put it down, every time I tried, it ended up luring me right back in. There was something truly addicting about this book. It's got romance, supernatural powers, mystery, family drama, horrifying abuse, and uplifting hope. I want to re-read this book already and I JUST finished it!
Touched
introduces us to Remy, a teenage girl living in an impossible situation. Remy's stepfather, Dean, is abusive and has been tormenting her and her mother for way too many years. Remy's secret talent of being able to heal others, and then herself, has kept her and her mother alive but one time, Dean goes too far...
Remy is sent to live with Ben, her estranged father, and his family. Even though she's hesitant at first, Remy soon begins to discover love, family, and trust for the first time. Remy also discovers Asher, an extremely gorgeous teenage boy who is hiding some major secrets of his own. As Remy becomes entangled with Asher and begins to learn his secrets, she makes shocking revelations about herself and her powers, secrets that could forever unbalance her world... secrets that could shatter the new life she has built for herself.
EEP! It's hard to write a review when you desperately don't want to spoiler anything! I so enjoyed this book though and would HATE to take that experience from someone else. Like I said above, I could NOT put this one down! Corrine Jackson weaves a highly entertaining tale full of all the best things about YA fiction. I have a feeling there will be some
Twilight
comparisons, but when isn't there comparisons?
The REALLY amazing things about this book: Remy. She's so strong! She's been through hell and back and has really learned to take care of herself. In fact, there were times when I wished she wasn't quite so independent! I feel so much for her and I want to find and stab Dean myself! What a CREEP! Anywho... another good: ASHER! *swoon* I just love him. He's got all the makings of a YA heartthrob. I also LOVE Remy's family... her dad, sister and stepmom welcome her with open arms and it's so touching to see them build a relationship with one another.
Would I recommend this book? UM, do I need air to live? Seriously. GET THIS BOOK. I read an ARC of it but you best believe I'll be buying my own copy when it releases later this month. November 27th. Put this on your calendar NOW! It's so amazing, you will love it! Enjoy! *XOXO*
Expected publication date: November 27, 2012 by Kensington Teen