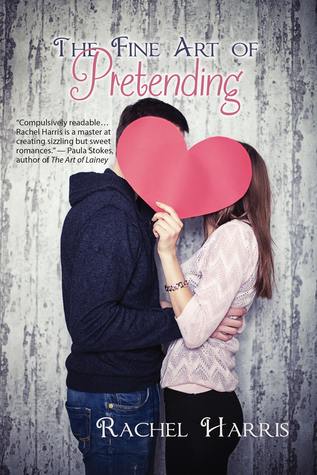 Synopsis:
According to the guys at Fairfield Academy, there are two types of girls: the kind you hook up with, and the kind you're friends with. Seventeen-year-old Alyssa Reed is the second type. And she hates it. With just one year left to change her rank, she devises a plan to become the first type by homecoming, and she sets her sights on the perfect date—Justin Carter, Fairfield Academy's biggest hottie and most notorious player.
With 57 days until the dance, Aly launches Operation Sex Appeal and sheds her tomboy image. The only thing left is for Justin actually to notice her. Enter best friend Brandon Taylor, the school's second biggest hottie, and now Aly's pretend boyfriend. With his help, elevating from "funny friend" to "tempting vixen" is only a matter of time.
But when everything goes according to plan, the inevitable "break up" leaves their friendship in shambles, and Aly and Brandon with feelings they can't explain. And the fake couple discovers pretending can sometimes cost you the one thing you never expected to want.
I'm going to be honest... when I started this one, I really thought that it wasn't the book for me. I even considered making it a DNF. Let me tell you, I am SO FLIPPIN' HAPPY that I stuck with it because once this book got rolling, I was HOOKED and I could not put it down! The characters are likable, the story is relatable, and you'll find yourself rooting for true love. This book is awesomesauce, totally made of win.
The Fine Art of Pretending introduces us to Aly, a teenager who is OVER being the "just a friend" girl. She learns from her best friend, Brandon, that the reason she's viewed that way is because the guys have dubbed her as a "commitment", a girl that you don't pursue unless you're ready for a full-fledged relationship. The "casual" girls are the ones the guys want to spend time with because it's all about having fun and not being serious. Aly decides that she's going to become a casual if it's the last thing she does... Operation Sex Appeal is underway!
Aly enlists Brandon's help by pulling the ultimate ruse... they pretend to be a couple, which Aly is hoping will solidify her new status since Brandon is a major hottie and player at school. The problem? The lines of pretend and real begin to get extremely blurry as old feelings are rekindled and confusion plagues them both. Will Aly's mission be a success, or will her plot destroy the real thing that's been under her nose all along?
I just LOVE this book. It's a quick and easy read that's super engaging and just plain SWEET. Brandon and Aly have something real and extremely special, and watching them come to that realization is so enjoyable as a reader. This book will be the perfect companion as you soak up the last rays of warm sun as fall begins to take hold. Take this one to a park bench and be amazed at how quickly the time flies. Enjoy! *XOXO*
Expected publication date: September 30, 2014 by Spencer Hill Contemporary