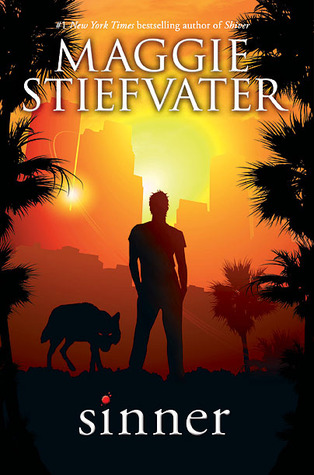 Synopsis:
A standalone companion book to the internationally bestselling Shiver Trilogy.
Sinner follows Cole St. Clair, a pivotal character from the #1 New York Times bestselling Shiver Trilogy. Everybody thinks they know Cole's story. Stardom. Addiction. Downfall. Disappearance. But only a few people know Cole's darkest secret -- his ability to shift into a wolf. One of these people is Isabel. At one point, they may have even loved each other. But that feels like a lifetime ago. Now Cole is back. Back in the spotlight. Back in the danger zone. Back in Isabel's life. Can this sinner be saved?
Meh. That about sums up this book for me. I went into Sinner with high expectations, quite liking the Shiver Trilogy and basically anything Maggie Stiefvater writes. I don't know if maybe I should have re-read the trilogy, maybe I was too far removed from it, but I found myself not giving a crap about these two extremely flawed characters.
Sinner is the story of Cole and Isabel being reunited in sunny California. Cole is on a comeback, starring on his own reality show while putting together a new band and new music, reconnecting with the rockstar he was before his infamous disappearance. Isabel is living a suburban nightmare, watching her parents drift further and further apart, while she attends school and works in a fashionable boutique store. Cole has one goal when it comes to Isabel and he'll stop at nothing to convince her that they belong together. Will these two broken individuals be able to find their way to each other or will they continue their destructive ways, alienating themselves from the one person who may be capable of loving them exactly as they are? Love and sins collide in this new tale by Maggie Stiefvater.
Again... meh. I just couldn't find it in me to connect to either Cole or Isabel, finding them both to be annoying, whiny, ungrateful, and just unrelatable. In fairness, it's been an extremely long time since I read the Shiver Trilogy and maybe I've just forgotten what it is that makes these characters lovable. I really wish I had revisited the series before trying to read Sinner because maybe the book would have hit me differently. As it stands now, I know I'll never read this one again because once was way more than enough. The one bright spot I'll say is the ending... whether or not they deserve it, there's always something satisfying about a happy ending. But really? Isabel is such an unpleasant character, she could have died and I would have been just as pleased. HA! That's an Isabel-like thing to say but seriously, try to find some joy before you suck all of it out of the world around you.