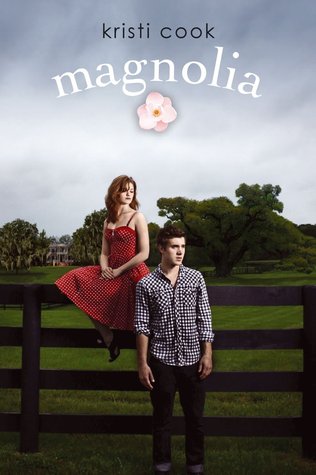 Synopsis:
In Magnolia Branch, Mississippi, the Cafferty and Marsden families are southern royalty. Neighbors since the Civil War, the families have shared vacations, holidays, backyard barbecues, and the overwhelming desire to unite their two clans by marriage. So when a baby boy and girl were born to the families at the same time, the perfect opportunity seemed to have finally arrived.
Jemma Cafferty and Ryder Marsden have no intention of giving in to their parents' wishes. They're only seventeen, for goodness' sake, not to mention that one little problem: They hate each other! Jemma can't stand Ryder's nauseating golden-boy persona, and Ryder would like nothing better than to pretend stubborn Jemma doesn't exist.
But when a violent storm ravages Magnolia Branch, it unearths Jemma's and Ryder's true feelings for each other as the two discover that the line between love and hate may be thin enough to risk crossing over.
Magnolia is like a tall glass of sweet tea... southern, satisfying, sweet and refreshing. I INHALED this one because I found it impossible to put down. The chemistry between Jemma and Ryder leaps off the page and is guaranteed to ensnare and captivate anyone who reads this beauty of a book.
Magnolia introduces us to Jemma, a sweet southern teenager who has lived under the pressure to fall in love with Ryder her whole life. From shared pack n' plays and vacations to weekly forced dinners, Jemma is made to endure the presence of Ryder who she CANNOT stand. Jemma knows that there is no way that her mother's dream wedding will ever be a reality, but when a devastating and destructive hurricane bears down on Magnolia Branch, Jemma finds herself riding the storm out with only Ryder for company. As the weather escalates to truly dangerous conditions, will Jemma and Ryder recognize what's been in front of them all along, or will they realize their true feelings much too late? Readers will fall in love with this fast-paced and addictive story by the brilliant Kristi Cook.
I seriously loved this book. It was such a quick and satisfying read that was really entertaining. I loved the drama of the storm, and the danger that was thisclose so many times to characters that you end up rooting for. Kristi Cook is a wonderful story teller and I promise that this one will keep you happily flipping the pages. Scoop this book up, throw it in your beach bag, and head to the beach for the day. You'll come home sunkissed and likely come home with a new favorite book. Enjoy! *XOXO*