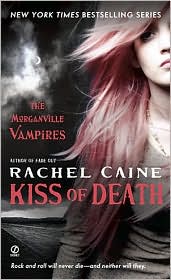 Teaser Tuesday is a weekly meme hosted by MizB at
Should Be Reading!
Anyone can play along! Just do the following:
-Grab your current read
-Open to a random page
-Share two "teaser" sentences from somewhere on that page
BE CAREFUL NOT TO INCLUDE SPOILERS! (Make sure that what you share doesn't give too much away! You don't want to ruin the book for others!)
Share the title and author, too, so that other Teaser Tuesday participants can add the book to their TBR lists if they like your teasers!
This week's Teaser Tuesday comes from Kiss of Death, the latest installment in The Morganville Vampires Series by Rachel Caine.
Oliver got in the front, turned, and drove a fist through the metal grating that separated the back of the squad car from the front. He peeled back the metal, grabbed Michael's arm, and said, "You can't help them by dying. You tried. We'll try again. This isn't over."
Michael was still tense, ready to fight, but Oliver held him there, staring him down, until Michael finally let go of Oliver's arm and held up both hands in surrender. His whole body slumped. Defeated. pg 148
I'm loving this book so far! Rachel Caine hasn't missed a step with this latest book, it's got the same great chemistry, action, and suspense that the previous books in this series have all had. If you haven't tried this series yet, what are you waiting for? Happy Reading! *XOXO*