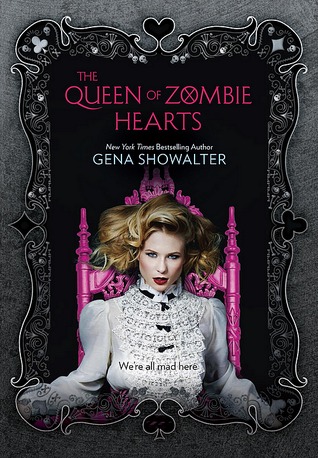 Synopsis:
I have a plan.
We'll either destroy them for good, or they'll destroy us.
Either way, only one of us is walking away.
Alice 'Ali' Bell thinks the worst is behind her. She's ready to take the next step with boyfriend Cole Holland, the leader of the zombie slayers; until Anima Industries, the agency controlling the zombies, launches a sneak attack, killing four of her friends. It's then she realizes that humans can be more dangerous than monsters; and the worst has only begun.
As the surviving slayers prepare for war, Ali discovers she, too, can control the zombies and she isn't the girl she thought she was. She's connected to the woman responsible for killing and turning Cole's mother. How can their relationship endure? As secrets come to light, and more slayers are taken or killed, Ali will fight harder than ever to bring down Anima even sacrificing her own life for those she loves.
SQUEEEEEEE! No mistake about it, this is going to be one of those ridiculous fangirling reviews because I am in love with this series and this third and final installment did NOT disappoint. The Queen of Zombie Hearts is the conclusion to the much loved Alice in Zombieland series and it's heartbreaking, uplifting, fast-paced, pure entertainment that wraps up Ali, Cole and the gang's story in a completely satisfying way. Kudos to Gena Showalter! Totally sending her a virtual hug right now.
The Queen of Zombie Hearts picks up with Ali, Cole and crew as they continue their battle against the zombies and Anima, the evil corporation using the zombies to their advantage in the war. Anima plans a devastating attack--an attack that leaves the group wounded and heartbroken as they are forced to continue on without some of their beloved friends and fighters. New alliances are formed and the goal of all is clear: Anima must go down.
Throughout the chaos, Ali is introduced to a strange woman who appears to have a strong, and shocking, connection to Ali and her past. As Ali learns to control new powers, Anima sets their sights on her again and NO ONE is safe. It's a race against time to destroy Anima once and for all--before they destroy all the people Ali loves most.
Again... SQUEEEEE! I'm always nervous reading the last installment in a series because sometimes, the author just makes a decision that baffles you and ends up ruining the whole series for you (thinking of the Nightshade series right about now!) but Showalter spins the perfect ending to this truly amazing series. That's not to say that there isn't heartbreak and sadness, because there totally is, but the story is magical, entertaining, satisfying, perfection. Can you tell I liked it just a teeny, tiny bit? *smile*
Be sure to scoop this up immediately when it releases in September. And if for some CRAZY reason you haven't tried this series yet, remedy it this very second. You'll thank me! Enjoy!
Expected publication date: September 30, 2014 by Harlequin Teen