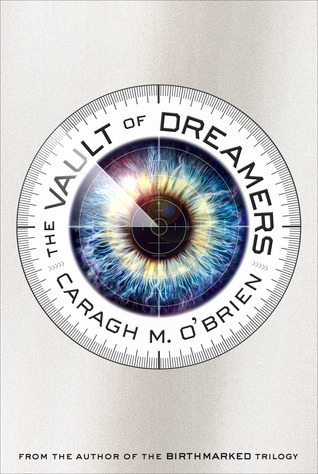 Synopsis:
The Forge School is the most prestigious arts school in the country. The secret to its success: every moment of the students' lives is televised as part of the insanely popular Forge Show, and the students' schedule includes twelve hours of induced sleep meant to enhance creativity. But when first year student Rosie Sinclair skips her sleeping pill, she discovers there is something off about Forge. In fact, she suspects that there are sinister things going on deep below the reaches of the cameras in the school. What's worse is, she starts to notice that the edges of her consciousness do not feel quite right. And soon, she unearths the ghastly secret that the Forge School is hiding—and what it truly means to dream there.
The Vault of Dreamers
has a ton of promise, which is clearly obvious if you read the above synopsis. And the first 3/4 of the book delivers and then things get a little... weird. And that's unfortunate because I was really digging the book up until that point. No idea if O'Brien plans on writing a sequel but if she does, I'm definitely interested to see the fates of some of the characters.
In
The Vault of Dreamers
, we're introduced to Rosie, a student desperate to make the final cut on the Forge Show, an extremely popular reality show about an elite art school. Enter a sexy boy who works in the kitchen on the show, budding friendships with some of the cool kids, and Rosie finds a way in. Once in, she decides to skip her sleeping pill because there's just something she misses about the night... but what she finds frightens her beyond words.
Rosie enters a race against time to uncover the truths about The Forge School before she's found out, and silenced, for good. When she starts to question everyone, including herself, she finds herself unable to decide who to trust, and who to stay away from. A shocking injury sends Rosie reeling and she knows that time is running out for her... and possibly for everyone else as well.
The Vault of Dreamers
is a thrill ride guaranteed to keep you guessing and on the edge of your seat until the very end.
*sigh* So. Much. Potential. The ending just really didn't do it for me. Like at ALL. I really hate it when that happens! It ends up killing the book for me. But like I said before, I'm still
interested
in the characters and would like to see what happens because the ending felt very... open. And odd. And unsatisfying. Sensing a theme? If you want to check it out for yourself, feel free in September. Enjoy!
Expected publication date: September 16, 2014 by Roaring Brook Press