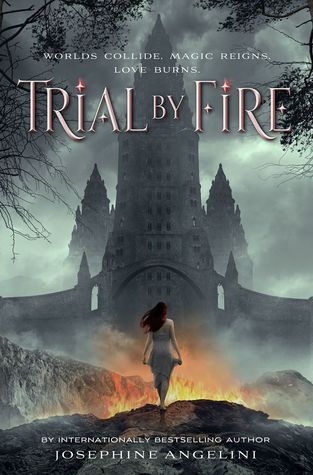 Synopsis:
Love burns. Worlds collide. Magic reigns.
This world is trying to kill Lily Proctor. Her life-threatening allergies keep her from enjoying many of the experiences that other teenagers take for granted... which is why she is determined to enjoy her first (and perhaps only) high-school party. But Lily's life never goes according to plan, and after a humiliating incident in front of half her graduating class Lily wishes she could just disappear.
Suddenly Lily is in a different Salem - one overrun with horrifying creatures and ruled by powerful women called Crucibles. Strongest and cruellest of all the Crucibles is Lillian... Lily's identical other self in this alternate universe. This new version of her world is terrifyingly sensual, and Lily is soon overwhelmed by new experiences.
Lily realizes that what makes her weak at home is exactly what makes her extraordinary in New Salem. It also puts her life in danger. Thrown into a world she doesn't understand, Lily is torn between responsibilities she can't hope to shoulder alone, and a love she never expected.
But how can Lily be the saviour of this world when she is literally her own worst enemy?
Trial by Fire
was a surprising hit for me because I really wasn't too sure what to think when this one started out. The beginning was a little lackluster for me but once things picked up, they went full steam ahead, barreling towards an ending that will have readers salivating for the sequel.
Trial by Fire
introduces us to Lily, a teenage girl with debilitating allergies, allergies that will soon place her under for-life house arrest. All Lily wants is to attend one high school party like a normal teenage girl, a party she is attending with her best friend turned
maybe
boyfriend. Unfortunately, the night ends in a total disaster and Lily finds herself wishing to disappear... she had no idea how very real that wish was about to become.
Lily finds herself in an alternate world, a world where her weaknesses are actually strengths and Lily learns that not only is she strong, she's one of the strongest witches in this new world. Lily finds herself in the midst of a war and she must decide which side she will fight on. Will Lily make the right choice? Will she find her way back home, or will she be stuck in this alternate world forever? All will be revealed in this fast-paced book by Josephine Angelini.
This book ended up surprising me quite a bit because at first, I wasn't too sure if it was going to be the book for me. Once I really got into it though, I got HOOKED. This is definitely a unique world that Angelini has created, I love the way that magic and science are intertwined in this story. If you're looking for a unique and fresh story, this could be the one for you! Magic, string theory, science, love, friendship and more collide to create a story that is engaging, entertaining, and definitely outside the box. Check it out for yourself when it releases in September. Enjoy!
Expected publication date: September 2, 2014 by Feiwel & Friends