Welcome to the fourth edition of Manic Monday! Manic Monday is all about finding things to look forward to on Tuesday, because who loves Monday? And we all know Tuesday means NEW RELEASES!! So each Monday, I'll highlight some books, music, or movies that are coming out the next day. Just a little something to help you find that silver lining!
I am beyond excited about the book I'm highlighting this week: Radiant Shadows by Melissa Marr!! I am completely in love with Melissa's writing and her Wicked Lovely/Faery Courts books are incredible.
Hunger for nourishment.

Hunger for touch.

Hunger to belong.

Half-human and half-faery, Ani is driven by her hungers.
Those same appetites also attract powerful enemies and uncertain allies, including Devlin. He was created as an assassin and is brother to the faeries' coolly logical High Queen and to her chaotic twin, the embodiment of War. Devlin wants to keep Ani safe from his sisters, knowing that if he fails, he will be the instrument of Ani's death.

Ani isn't one to be guarded while others fight battles for her, though. She has the courage to protect herself and the ability to alter Devlin's plans—and his life. The two are drawn together, each with reason to fear the other and to fear for one another. But as they grow closer, a larger threat imperils the whole of Faerie. Will saving the faery realm mean losing each other?

Alluring romance, heart-stopping danger, and sinister intrigue combine in Melissa Marr's next volume of Melissa Marr's New York Times bestselling Wicked Lovely series.
I've actually already read this, I had the pleasure of receiving an ARC this year and I can guarantee that fans of this series will not be disappointed with this installment. The Dark Court and High Court are featured predominantly in this book and some old fan favorites, such as Irial and Niall are in abundance, as are some characters that you get to know much more deeply than before, like Devlin and Ani. You will fly through this book!
The movie I'm highlighting doesn't actually come out tomorrow, but it does come out this week, on Earth Day, which is April 22nd.



I didn't see this movie in the theaters... by the time I got around to it, it wasn't showing in 3D anymore in my area so I decided to wait for the DVD. I have only heard amazing things about it though so I'm super excited to see if it exceeds my expectations.

And I actually have a CD release this week that I'm excited about too: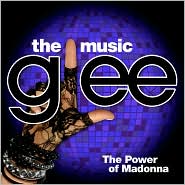 I am a total GLEEK... and Madonna? Awesome! I'll definitely be getting my hands on that CD as soon as possible!

Well, that's all I've got for this week. Hope Monday is treating you ok! *XOXO*