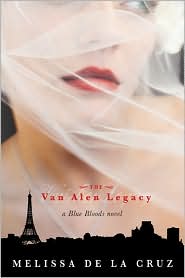 Teaser Tuesday is a weekly meme hosted by MizB at
Should Be Reading!
Anyone can play along! Just do the following:
-Grab your current read
-Open to a random page
-Share two "teaser" sentences from somewhere on that page
BE CAREFUL NOT TO INCLUDE SPOILERS! (Make sure that what you share doesn't give too much away! You don't want to ruin the book for others!)
Share the title and author, too, so that other Teaser Tuesday participants can add the book to their TBR lists if they like your teasers!
This week's Teaser Tuesday is coming from
The Van Alen Legacy
, book four in the popular
Blue Bloods Series
by Melissa de la Cruz.

"The darkness that surrounded her was absolute: so complete, even vampire sight was useless. She hid in a tunnel until the screams and sounds of the skirmish subsided, fading into blackness."


"Schuyler called Jack's name for what seemed like hours, but there was no answer. There was no sign of the Silver Bloods either, but that didn't mean anything." pg. 167